When looking for a place to live we all have different amenities which we value more. However, being that we are at the start of a new year, there is much interest in fitness. If this is one of your values, then below you will find the nicest community gyms Gainesville has to offer!
Not only do they have the nicest gyms, but they offer the best amenities for all exercise types. Live where you work out!
Don't believe me? Check them out yourself!

Gainesville Place is not only an excellent apartment complex located in between the University of Florida and Santa Fe College but it also has one of the nicest gyms around. With a gym open 24 hours and brand new, state-of-the-art equipment they are a gym buffs dream. It is also perfect for those just getting started in the fitness world. They have all you need to achieve your fitness goals this new year. Is the gym not your scene but still want to work out? Well, Gainesville Place has racquetball, tennis, volleyball, and basketball courts. Let me not forget to mention their one-mile fitness trails.

Lexington Crossing's gym is another community gym putting others to shame. With their 24- hour fitness center and machines for every body part ever they are right to say to cancel your gym membership. Just like Gainesville Place, Lexington Crossing has tennis and basketball courts for those of you who prefer to get fit through sports.

Another place doing the most for their residents in the area of fitness is Oxford Manor. Here is another 24-hour fitness center with mirrors on the walls so you can see your muscles grow as you work out. However, the coolest thing they have in their gym is the moving rock wall. You don't have to wait for a fair to come around to climb a rock wall, now you can do it in the comfort of your community gym. For those who want to play sports, they have basketball, tennis, and volleyball courts. If this isn't enough to convince you they are committed to catering for those of us who love fitness, I should mention they have a cardio room and a sauna. A SAUNA!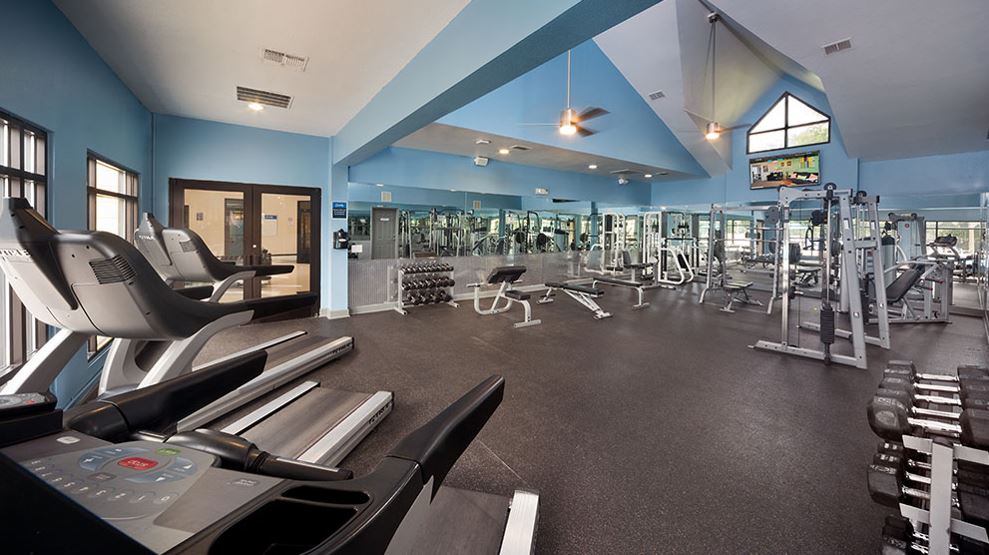 The gym at The Crossing at Santa Fe is a spacious one that is also open 24 hours! They have natural light coming from all around and a view of the pool to encourage you to keep going. There are countless machines and yet enough space for you to do your own thing. They also have courts for basketball, tennis, and volleyball players.
Last on our best community gyms list is the gym at The Polos. It is, of course, open 24 hours for those who are regularly busy. It is also extremely spacious. They have all types of machines, some you may have seen, some you may have no clue what to do with. Racquetball, basketball, tennis, and volleyball players there is a court for you in this community. Last on the long list of great things they have, is the fact that they have a sauna! Get spa-like steam after a hard workout, what more could you ask for?
Where's your favorite place to workout in Gainesville?
Posted by